Avis Location Information
Avis Bale-Mulhouse Airport (French side) Car Rentals
Location Contact Information
Location Name:
Avis Bale-Mulhouse Airport (French side) Rent-A-Car
Address:
Aeroport Cote Francais
Mulhouse
,
68304
,
France
Phone Number:
(33) 03 89 90 29 39
Hours of Operation:
Sun 17:30 - 21:30
Mon-Fri 12:30 - 21:30
Sat 09:00 - 14:30

Loading Map of Bale-Mulhouse Airport (French side)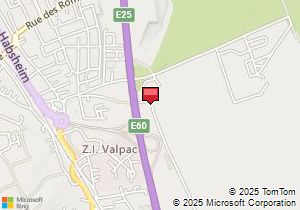 Other Avis Locations Near Bale-Mulhouse Airport (French side)
Additional Location Information
AFTER-HOURS RETURNS
Park & lock the car. Place the completed contract & the keys in the key drop box. Remember to take your personal belongings with you.
Check Rates at MLH
Avis Locations Near Mulhouse
Categories A,B,C,D,H,I,J,K,L : 21 years old
Categories E,F,G,M,N,O : 25 years old
Andorra
Austria
Belgium
Denmark
Finland
Germany
Great Britain
Italy
Luxemburg
Norway
Portugal
Spain (mainland)
Sweden
Switzerland
Netherlands
Group F & M forbidden in Italy
Driver liscence must have been held for at least one year.
Refuelling Service Charge - 10.00 eur
Diesel: 2.23 / litre
Sans Plomb: 2.40 / litre
Death: 120,000 EURO
Medical: 6,000 EURO
Perso Effect: 350/Articles up To 6,000
New Keys: 500 EURO
Deductible 70 Eur Applies
Counter sell product only and will reduce the liability to eur 0 for all cars group except group P where it is reduced to 300 eur. The reduction of the non waivable excess will be void if damage or theft caused intentionally
Location Service Charge (LSC)
Airport / railway : 39.10 eur
Vehicle License Fee (VLF)
3.15 EUR/ day (max 8 days charge)
30 euro/day (max 10 days charge)