Avis Location Information
Avis Leeds Bradford Airport Car Rentals
Location Contact Information
Location Name:
Avis Leeds Bradford Airport Rent-A-Car
Address:
Harrogate Road
Leeds Yorkshire
,
LS19 7TZ
,
United Kingdom
Phone Number:
(44) 08445446018
Hours of Operation:
Sun 10:00 - 22:00
Mon-Fri 08:00 - 22:00
Sat 08:00 - 15:00

Loading Map of Leeds Bradford Airport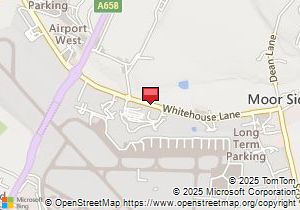 Other Avis Locations Near Leeds Bradford Airport
Additional Location Information
*GENERAL DIRECTIONS*
COUNTER: Counter and car at Terminal - Walk to car.
AFTER-HOURS RETURNS
Park & lock the car. Place the completed contract & the keys in the key drop box. Remember to take your personal belongings with you.
Check Rates at LBA
Avis Locations Near Leeds Yorkshire
7.50 /day / driver (max 10 days)
Belgium, Channel Islands, France, Luxembourg, Netherland, Rep of Irland, Andorra, Austria, Bulgaria,Canary Islands, Corsica, Cyprus, Czech Republic, Denmark, Finland, Germany, Gilbraltar, Greece, Hungary, Italy, Liechenstein, Malta, Monaco, Norway, Poland, Portugal, Romania, San Marino, Sardinia, Sicily, Slovenia, Spain, Sweden, Switzerland, Turkey
CAT. E: Fobidden in Italian and South of France
Leaving the UK / cross border rental, client must give 2 working days notice. A continental package must be purchase at the start.
Personal Accident - up to 42,000
Medical Expenses - up to 2,100
Personal Effects/Baggage - 2,100/200
Vehicle License Fee (VLF)
1.31/day
Downtown Congestion Charge
www.tfl.gov.uk (Between £8 to 10£). No charge on public holidays.
23years to 25years = 11.00/day